Biography
Peter Lieuwen Trio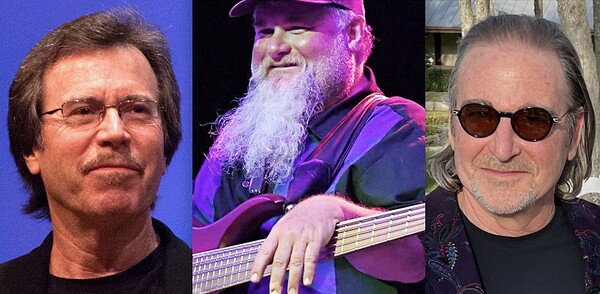 The Peter Lieuwen Trio (composer/pianist Peter Lieuwen, bassist Brian Lippman, and percussionist Mike Holleman) performs original compositions, progressive jazz tunes, and great jazz standards of the 20th-century. Their diverse repertoire includes music by iconic arists such as Ellington, Gershwin, Porter, Coltrane, Jobim, Rogers & Hart, Monk, Miles Davis, Robert Glasper, Roy Hargrove, McCoy Tyner, Chick Corea, and Monty Alexander. Playing contemporary, fusion, swing, latin, afro-cuban, and ballad styles; members of the trio have performed worldwide with artists such as Doc Severensen, Bo Diddley, The Drifters, Martin Short, Sheryl Crow, Delbert McClinton, and Lonnie Mack.
Musicians
Composer and pianist PETER LIEUWEN has been commissioned, performed, and recorded by orchestras, small ensembles and artists throughout North America and Europe. His symphonic music has been hailed as "an attractive array of shimmering, shuddering sonorities" (The New York Times), "arresting in every single measure" (New York Daily News) and "undeniably ear – catching" (The St. Louis Post-Dispatch). The composer's music for small ensembles has been described as "slight, dependent on dainty sound effects, and attractive" (The New Yorker), "broad in instrumental palette and highly successful in its handling of balances" (Musical America) and "dramatic, intricate, and incisive" (American Record Guide). His music has been presented by such artists as The Royal Philharmonic Orchestra, St, Louis Symphony, Pacific Symphony, Cassatt String Quartet, SOLI Chamber Ensemble, pianist Marc Andre Hamelin, and trumpeters Doc Severinsen and Allan Vizzutti. Peter Lieuwen's compositions are published by Keiser Southern Music with recordings available on Albany, Crystal, Divine Art /métier, ProArte/Fanfare, MSR Classics, Naxos, and New World labels.

BRIAN LIPPMAN is one of the most talented, versatile, and sought after bass players in South Texas. At home in jazz, rock, and fusion genres, his skill and groove enhances any ensemble, providing a solid rhythmic pulse as well as creative, compelling melodic solos. Brian has toured the US, Europe, and Asia performing with such artists Doc Severinsen, Allen Vizzutti, Bo Diddley, Granger Smith, Martin Short and The Drifters. A well-known fixture in the local music scene, he can be seen onstage with such bands as The Texas T-Birds, the Brazos Valley All Star Band, and the Revelators. He can also be heard on the CD recordings "To the Core" and "It's About Time" with the Big Apple Trio.

MICHAEL HOLLEMAN, (Percussion/Vocals/Guitar) has performed and/or recorded with the following: NYC Broadway production of "The Best Little Whorehouse In Texas", Cleveland's Playhouse Square productions of "Pump Boys and Dinettes", "Diamond Studs", Major Motion Picture soundtracks for directors Peter Bogdanovich and Sam Shepard. Toured and/or recorded with artists: Jim Lauderdale, Shawn Colvin, Sheryl Crow, The Lost Gonzo Band, Great Recession Orchestra, Delbert McClinton, Doug Sahm, Augie Meyers, Lonnie Mack, Harvey Brooks, T-Bone Wolk, Hugh McDonald, Kinky Friedman, Bo Diddly, The Platters, Tanya Tucker, Dave Keyes, Popa Chubby, Peter Rowan, Henry Gross, Buddy Whittington, Junior Brown, John Leventhal, Tracy Nelson, Buddy Miller, Mickey Gilley, three tours in Iraq playing for the troops and three performances at The White House with Granger Smith, comedian Martin Short and many more.
https://open.spotify.com/album/4Y9zNpHHNdFVooV4BwpAK8?si=kRDykav-RYuF56NWm1NJzw