CONCERTOS CD (2016)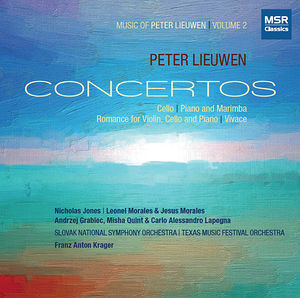 LIEUWEN: Cello Concerto; Romance; Vivace; Piano & Marimba Concerto Nicholas Jones, Misha Quint, vc; Andrzej Grabiec, v; Carlo Alessandro Lapegna, Leonel Morales, p; Jesus Morales, marimba; Slovak Symphony, Texas Music Festival Orchestra/ Franz Anton Krager MSR 1582 — 64 minutes
Peter Lieuwen (b. 1953) was born in the Netherlands, grew up in New Mexico, and teaches now in Texas. He is getting a bit of attention from MSR. This is Volume 2 of his music as recorded by that company, and it continues a series of warmly emotional and lively works performed with enthusiasm. The most recent one presented here is the Cello Concerto of 2012, a two-movement, 22-minute work of lively character, written in a basically romantic idiom but with imaginative use of harmony and in a style that is always going somewhere and gets there. Jones plays with passion, though he is not always totally accurate in his intonation in rapid passages.
The 10-minute Romance for trio follows, also a rapid-fire but lyrical work written in 1994, revised in 2010, that tells us "the course of love never did run smooth". Then we have a Vivace for strings that originated in Lieuwen's Guitar Sonata of 2009 but fits the string orchestra like a glove.
Finally we have a 27-minute concerto where the first movement is just for piano and orchestra. The following movement introduces the marimba and it and the piano intertwine in a happy way. This concerto was written for the present players, who are brothers.
This is a nicely organized and well-recorded project that presents a strong and capable composer. Keep it up, MSR! You have something here.
American Record Guide