SARUMBA CD (2018)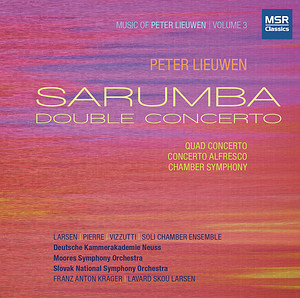 Sarumba — Music of Peter Lieuwen – MSR Classics
LIEUWEN: Sarumba (2 violins and chamber orchestra); Chamber Symphony; Quad Concerto (clarinet and piano trio);Concerto Alfresco – Emeline Pierre, Lavard Skou Larsen, violins/ Deutsche Kammerakademie Neuss/ Slovak National Symphony Orchestra/ Franz Anton Krager/ Stephanie Key, clarinet/ Ertan Torgul, violin/ David Mollenaur, cello/ Carolyn True, piano/ Moores Symphony Orchestra/ Lavard Skou Larsen/ Allen Vizzutti, trumpet – MSR Classics MS 1583, 62:27 ****:
This is MSR's third foray into the music of Peter Lieuwen, and another success. Lieuwen's music is so refreshing–he is contemporary but with a well-knotted connection to the past that eludes labels like "neo-classic" and resists stereotyping. See my previous review and that of colleague Mel Martin for the first two discs in the series.
Lieuwen is rhythmically driven, dynamically subtle, French, Nordic, even Stravinskian in some of his harmonies, but always his own man. Sarumba uses a palette of multiple Brazilian rhythmic patterns drawing influence from rock, world music, and jazz, yet never settling into one of these long enough to define it. The two violins enjoy the competition with one another in this engaging and upbeat piece.
Supposedly taking its inspiration from the Georgian Orthodox hymn Thou art a vineyard (an Orthodox hymn that has been set many times in various national churches), Mary the Mother of God ("Theotokos") is exalted here in a way that emphasizes love and nature in this threemovement rendered Chamber Symphony. This is the most stirring work on this disc.
The Quad Concerto, written for the SOLI Chamber Ensemble in San Antonio, Texas, is a marvelous work passing color, sound, and melodies from one member to another and playing a mix-and-match game with the soloists and orchestra. Again, an upbeat rhythmical activity is front and center as the driving element in the piece.
Concerto Alfresco is a welcome virtuoso piece for trumpet and orchestra that makes use of jazz and rock elements without allowing either to become a dominant force. Though improvisation is allowed, even with the standard chordal indications found in a jazz band improvisational chart, a stern classical rigor is maintained in the work to provide order and schematic functionality. It is zestful and thrilling, and I believe any trumpet player would be excited about taking it up. It was first prize winner at the 2013 Doc Severinsen International Composition Competition.
The sound is very good and consistent among the various ensembles and venues. I look forward to volume 4.
—Steven Ritter
Steven Ritter

Audiophile Audition