SONATA FOR GUITAR (2009)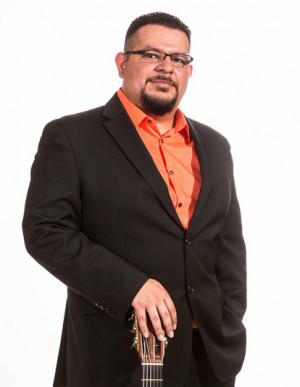 Sonata for Guitar (2009) - 15 min.
I - Fiero
II - Tranquillo
III - Vivace
Commissioned by Isaac Bustos
Isaac Bustos and I had been talking about a new guitar piece for some time before I finally asked him, "What does the guitar world need?' Without hesitation, he answered, "A big sonata." At that point he commissioned the Sonata for Guitar.
The first movement, Fiero steadily builds upon lively asymmetric rhythmic cells before settling into a contrasting section marked caloroso y molto rubato (warmly and flexible in rhythm). The movement becomes increasingly dissonant reaching a climax with broad block chords marked con bravura. The music then turns back on itself and ends much as it began
As its title Tranquillo implies, the second movement is intended to create an atmosphere of space and beauty. Following introductory harmonics and a series of rising melodic figures, another chordal section (much different that that of the first movement) is presented which leads to the concluding gestures.
Vivace, the final movement is pure fun tinged with spiritual uplift. Supported by a steady rhythmic ostinato, the melody, in slow harmonic rhythm, is presented first in the highest voice and then answered in the lowest. This antiphonal character permeates the movement. Affectionately known as "the knucklebuster", Vivace showcases the virtuosity of an artist like Isaac Bustos to whom this sonata is dedicated.
Publisher: Keiser Southern Music
Email: info@laurenkeisermusic.com
Recording: OVERLAND DREAM: Chamber Music for Strings, Winds and Piano
MSR CLASSICS - MS 1581
Performed by Isaac Bustos
(Select MEDIA to hear sound clips)