CONCERTO FOR VIOLIN AND ORCHESTRA (2001)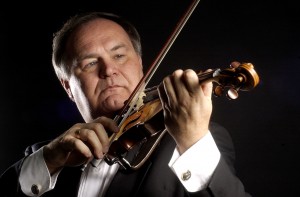 CONCERTO FOR VIOLIN AND ORCHESTRA (2001) - 30 min.
2(2 picc.),2,2,2,/2,3,3,1/piano/harp/timp./3 perc./strings
Commissioned by Andrzej Grabiec
The Concerto for Violin and Orchestra: "Seren" received its world premiere by the Moores School Symphony Orchestra conducted by Franz Krager at the Moores Opera House, University of Houston, on September 27, 2002. The subtitle, "Seren" is Welsh for Star.
The structure of the work is based on intervals of the 2nd, 7th and 9th, and rhythmically on a 6+2 or long/short pattern. With a fair amount of the solo violin's gestures drawn from the rhythmic vitality of American jazz, particularly the be-bop style of the 1940's, the three movements are in the classical fast-slow-fast format with an improvised cadenza preceding the extended coda in the last movement.
Recorded by Andrzej Grabiec and the Moores School Symphony Orchestra conducted by Franz Anton Krager on the CD LIVING WATERS - Albany Records TROY 928
Published by Keiser Southern Music
Email: info@laurenkeisermusic.com
(Select MEDIA to hear sound clips)