QUAD CONCERTO for clarinet, violin, cello, piano and orchestra (2015)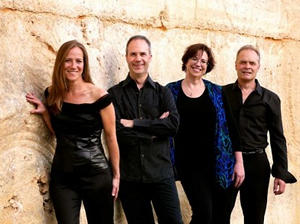 Commissioned by the SOLI Chamber Ensemble
Soloists: Bb clarinet, violin, cello and piano
Orchestra: 3,3,3,2 4,3,3,1 timp., 3 perc., strings
Duration: 14 minutes
The idea for the QUAD Concerto was hatched in 2011 at an after-concert dinner with the SOLI Chamber Ensemble in San Antonio. SOLI had just performed my composition Overland Dream which was written for the ensemble. As many of my compositions are orchestral, I couldn't help but envision a new concerto for their colorful instrumental combination.
Writing a concerto for chamber ensemble and orchestra offered unique musical changes and opportunities. Much of the time, the ensemble and orchestra in the QUAD are treated in much the same way as in the Baroque Concerto Grosso; with a small instrumental group (concertino) in dialogue with the orchestra (ripieno). At others times various soloists emerge and are often paired with another instrument in the ensemble. This offers a marvelous opportunity for klangfarben melodie (sound color melody) in which a musical gesture is initiated in a single instrument or group and completed in another.
Dramatic tension and repose is created with the dissonant diminished (half-step/whole step scale) juxtaposed with consonant pandiatonic gestures. Often, the melody is presented "in harmony" at the interval of the 7th or 9th which creates a sonic halo around the primary gesture. Rhythmically, the piece is mostly upbeat, positive and luminous… just like SOLI.
~ PL
Publisher: Keiser Southern Music
Email: info@laurenkeisermusic.com
Recording: SARUMBA: Music of Peter Lieuwen | Volume 3
MSR CLASSICS - MS 1583
(Select Media to hear sound clip)